Personal Recollections ~ Stevenston
My name is Ewan (formerly known as Iain) Steed, my father was Andrew and mother Edith, better known as Joyce and I was born in 1947 in Buckreddan in Kilwinning.
I was their second child, having an elder brother Keith and the first place we lived was at 6 Reids Avenue in Stevenston. This was an upstairs flat where we stayed until my two sisters – Patricia and Dianne – were born. We then, literally, moved round the corner to 87 McGregor Avenue. This was a semi-detached corner house i.e. McGregor Avenue was our house and next-door was the beginning of Reids Avenue (odds side).
I went to what was then Stevenston Primary School (later Stevenston High) in 1952. My father worked in the "Dinamit" – ICI – as an Explosives driver until his death in 1972. Was also in the Cubs and later the Scouts in Stevenston.
We always walked to school through "the glen" onto Townhead Street where my father and some of his family had been born. This came out opposite the Post Office and Park's the Bakers – great pies although it was not a patch (sorry) on Morrison's the bakery further down the street and beside the Co-operative. I then had to walk past Douglas' Bar, Halberts and the butchers at the corner before turning down New Street towards the school.
At lunchtime I went home for lunch so the walk up and down was four times per day. Quite a distance when you are small but that was normal in those days as there was little or no public transport. When I was about 11 the first buses ran up the hill to the Hayocks scheme where we had moved from McGregor Avenue. It cost ½ penny for this journey – something my father refused to pay as there were four of us and it would have been four journeys each per day – a lot of money back then.
On Saturdays we usually went to Saltcoats shopping as a family again we walked there and back. I remember mainly the huge Co-operative store where you could literally buy anything as it stocked furniture; clothes; was a Butcher's and a Baker's as well. You could also get your shoes repaired through the back. I also think back to the days of the Deluxe "flea pit" cinema and also the Grange and Reids for fish suppers. We also used to get fresh baked rolls in an evening from Morrison's – they were certainly different days.
I don't think anybody realises how much history this area had as the ICI was so dominant – industry wise – that it affected the growth of the area for so long. Stevenston was very much a workingman's town and one that I was certainly glad to leave behind shortly after I left school never returning as my father died and then my mother not long after moved out of the town completely and into Irvine.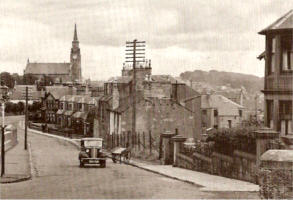 As a Genealogist I have now found out why my father never liked us playing in the "Folly" on the High Road. This was a house where my grandmother's family resided and held bad memories for his mother and her family. I also found out that another of my "rellies" ran a lodging house on Townhead Street opposite the Post Office – that is still a discovery waiting to be uncovered fully. Also that some of the family married in the Free Church (not there now) in New Street. Hawkhead Cemetery is where many of my ancestors are interred – STEED; TORLEY; LENNON; McFADZEAN; McCARTNEY to name but a few.
I have been happily married to a Scots lass from Dunbartonshire for 34 years and have three children and two grandchildren. (Not quite following the old Scottish naming tradition). My children are Andrew; Sheelagh and Gavin.
My family "roots" are firmly in Ayrshire and in particular within the "Three Towns" area. I have linked to the "Three Towns" site from my own site at ancestryroots as I feel Hugh's site has so much to offer.
Ewan Steed ~ Ayrshire