Personal Recollections ~ Ardrossan
Dad and his dad were both born in Saltcoats and before that my ancestors came from Stevenston and Kilwinning. Kilwinning was where great grandfather Hugh McCallum was born in 1860 - just recently found his headstone in Stevenston's New Street Cemetery.. Mum's Boyce family had lived in Ardrossan since the 1850s and prior to that Girvan. The house in Whitlees Crescent in Ardrossan where I was born still stands - I'd lived there till leaving for Australia in 1964 with my Stevenston bride.
From our front window we could look down McDowall Avenue and beyond to the Firth of Clyde. I've memories of watching for the Lairds Isle to appear on the horizon on its daily summer Belfast to Ardrossan run. My pals and I would head down there to make a few bob carrying cases for the holidaymakers, many of whom got on the Glasgow boat train there at Montgomerie Pier - that was on the Caledonian railway line which went under the top end of Glasgow Street then through Saltcoats, Stevenston and Kilwinning.
Around 1946 wooden shops were built on each of the four corners of Broadway. Ardrossan Co-operative and Gracie's general store were built on the corners with Whitlees Crescent, the others on the corners with Castle Road for Gallagher's licensed grocers and Breckenridge's fish and chip shop. These shops closed around 1955 and re-opened in the new shopping centre as it was in Central Avenue - granny houses were then built on those four corners.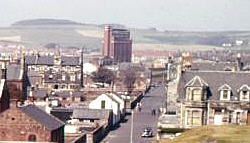 Our dad for the most part worked at Ardrossan Gasworks which was just a few hundred yards from our house. You can see in this photo sent by Bob Bryden and taken from Castle Hill (Cannon Hill) the gasworks was the tallest building in the district due to the vertical retort system used. Dad would often take me up in the lift with the big wheelbarrow full of coal - the coke would come out on the ground floor after the gas extraction process. There were great views from up there all around the area, particularly out over the Firth of Clyde. I could look down into Eglinton school where I had my secondary education - Eglinton was on the opposite side of the Ardrossan to Largs railway line.
I remember the lamplighter coming out of the gasworks lane with his small ladder in the early evening as we kids played in the streets. The earthy material cleaned from the gas purifying pits was used on the paths at Ardrossan cemetery to keep the weeds down - I can still remember the smell there. In the end the gas company couldn't sell all the excess coke and it was left in massive piles invitingly close to our backyards.
Our neighbours when I was growing up on the McDowall avenue end of Whitlees Crescent included: Phillips, Paterson, Morrison, Muir, Lawson, McFarlane, Bates, Campbell, Ford, Todd, McVey, Gribben, Tracey and McGinn. The kids near to my own age there at that time were: Davie Muir, The McFarlane girls, Tom Bates, Davie Ford and Francis Gribben.
Ardrossan Harbour's waterman Dick Campbell was one of our neighbours and a keen gardener - we all had massive back gardens before they built McDowall Place through them. Dick's job was to replenish the ships with fresh water before they sailed. During the quiet periods he'd collect the pigeon droppings on Winton Pier railway platform and my brother Bobby and I would wheel it back with his big boagy (home built wheelbarrow). In those days we very seldom had sweets for they were rationed for a fair time after the war, one of our favourite treats was some of Dick's rhubarb which we'd eat dipping the end into a bag of sugar - a common thing in those days though even then sugar too was scarce.
Our Mum died in 1946 when I was four, after that my dad let the front room, at that time there was little housing, so sub-letting was pretty common. It was good for us because part of the deal was that we had someone in the house who'd cook our meals. I'm sure if it wasn't for that and the school dinners then my sister, two brothers and I would have been under nourished.
My uncle Joe Cunningham, wife Margaret and son John were one of our sub-let families - they eventually got a new house in Boydston Road. Joe get's many a mention along with our Hand cousins in the books by Patrick O'Connor about growing up in Ardrossan between the wars. Joe was the local snooker champion, dad often told me Joe helped them all through the depression with the money he made hustling at 'the Den' (billiard hall in Kilmahew Street) and the other snooker halls in the surrounding towns.
For a time mum's best pal and cousin Elsie Hand looked after us when mum died, but she had a life of her own and we all cried when she left to get married to Ted in England. Ted was a soldier in a recognisance group based in Ardrossan. Ted met Elsie at the Lyric Cinema where she was an usherette. Frank Swift who was to be the England goalkeeper was in the same group as Ted, he was later killed in the Manchester United aircraft disaster at Munich - at that time he was a newspaper reporter.
Elsie's sister aunt Cathy (Hand) Wishart was also very kind to us. We all share McGregg blood on our maternal sides due to the four McGregg girls who came to Ardrossan in the early 1900s from Newry in Ireland - the McGregg name is now gone. If you come across it please contact me.
When dad returned from WW2 his hobby was raising hens for the eggs which were also very scarce. Our hen run was large, in fact as stated earlier around 1960 they built McDowall Place on that land (see photo below) where we and other neighbours had our hen runs. Dad rigged up lighting in his hen hut and it worked from an accumulator which is a type of wet battery, we would get it re-charged at Stirling's electric shop. Some people used them for the radio and Dad used to say mind and don't shoogle (shake) it 'cause you'll mix up the radio stations. 😉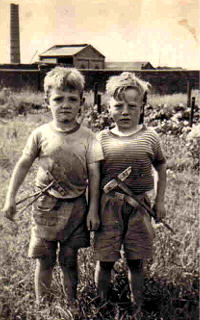 Friends and relatives would give us stale bread they had saved for the hens. We'd also get some from the Co-operative Dispatch in Barr Street next to the fire Station. The bread would be softened with water and chicken meal added for feeding the hens. We'd also cook potato peelings and add meal to that too. All those who supplied the stale bread got cheap eggs and a free dressed chicken at Christmas - brother Jim did that as he was an apprentice butcher at the time in Baillie's in Saltcoats. Dad would also buy the occasional sack of corn from Ross's Dairy on Parkhouse Road - where the High Tide pub now stands.
Photo 1950? Ian Thomson and George O'Connor standing between Whitlees Crescent and Castle Road where McDowall Place now is. Just beyond is Ardrossan Burgh's Incinerator, the lower roof is Winton Foundry - to the left was the gas works.

Ian and I worked in Winton Foundry until it closed, we both then went to work in Ardeer Foundry in Stevenston which was a bit of a hell hole by comparison. We were lucky, because of our background in more intricate moulding we went to work in the non-ferrous part of that foundry. I left for Australia the following year. George O'Connor and his wife Sally from Saltcoats are in Australia and we get together regularly.
Hugh McCallum ~ Bellarine Peninsula, Australia