Personal Recollections ~ Saltcoats
I left Scotland at age four and so my earliest memory of living in the three towns are scant. As a young child I remember my mother pulling a big pram up the stairs and my sister and I had to help push it up the stairs while my mother pulled it up. We lived above a pub, I can't remember the name of the pub which was in Saltcoats but I do remember standing at the window looking down at people in the street.
Another memory I have is of walking next to the beach and there was a railing with the beach below and I always held onto the rail just in case I would fall off. My only other memory was walking with my sister to a building where she went to a group a little like the Brownies but I am sure it was called Rose Buds, I was too young to go and I used to cry all the way back home.
Lastly I remember a lady sitting on the bottom step smoking a long white pipe. Once when she put her pipe down and I walked past I quickly stuck my finger into it to see what it was, needless to say I burnt my finger and never did it again.

We left for Canada and I returned when I was 14yrs old. My father had told us many stories over the years and always referred to Saltcoats as our 'home', so when I returned I felt like I had come 'home'. That was back in the early 70's and so now I can share some of my recollections.
 
It was wonderful, the old stone walls stood out the most for me as I had not seen such old walls while living in Canada. I remember a van coming around past the house and you could buy sweets, chips and drinks and my very first try of hot chips with gravy was from a local chip shop and my first try of Iron Bru down on the beach.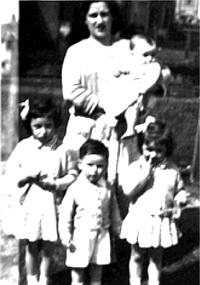 I remember walking around the grounds of the Ayrshire Museum while doing some research and seeing many headstones lying on the ground and in disrepair. Going into the Museum and seeing a photo of a family member and I also remember how helpful the museum attendants were.
I can remember walking along the shore and the smell of the sea air and the wind blowing through my hair and chilling me to the bone. I think mostly I remember the lovely people and how nothing was too much trouble if you asked someone for assistance.
These are my memories from someone who was born, left and came back.

The day we left Saltcoats in 1959
Mary Hamilton Pllu ~ Australia