Personal Recollections ~ Stevenston
I was born in 1946 just nine months after my fathers return from Singapore where he had served with the REME. I was one of a pair but unfortunately my twin brother Murray died at a very early age. Infant mortality was high in those days. I was one of the lucky ones.
My extended family
My father was one of seven children and my mother one of nine so I had plenty of aunties, uncles and cousins in the town. As well as the McLarens there were the Aveys, McGhees, Stevensons, Boyds, Camerons, Schaffers and McCurdys. (other aunties married and moved away). My father's brother Mathew moved to Saltcoats with his wife Agnes. They had eight (or maybe nine) children. Another of his brothers moved to Australia in the early fifties and two of my aunties emigrated to the States. I had two grandmas too. Lovely, adorable ladies with whom I spent a lot of time. Mammy Murray from Hayocks Road was bedridden but always had a smile and a cheerful outlook on life. Grandma McLaren and my fathers four sisters, lived in Lundholm Road near the factory end. She taught me how to melt 78 records to make plant pots. That didn't please my aunties whose collection we used. Crafty lady my Grandma as I got the blame! There was an Anderson shelter in her garden which served well as a wee gang hut for me and my pals.
The Station Square Years
My first 7 years in Stevenston were spent in the Station Square located, appropriately enough, adjacent to the railway line near the station. The square consisted of about 30 dwellings. I can't call them houses as they comprised a living room, with a 'set-in' bed in the wall, and a small scullery where I would be bathed in the large stone sink. They had one outer door only and one window, roughly plastered walls and flagstone floors. Lighting was gas light. There was no toilet or bathroom. The toilets to serve all dwellings were in a two blocks of 6 each with squares of newspaper hanging on a nail for .. well, you know? I remember being really scared when I had to go to the toilet in the middle of the night for there was very little lighting. Just a couple of gas lamps. You had to be quick or the bogey man would get you. Alongside each of the toilet blocks was a washhouse where the women of the square would do the washing in a large copper boiler and use an enormous mangle to wring the washing. The drying line, on the green in the centre of the Square, was common use so the ladies had a rota on washing days.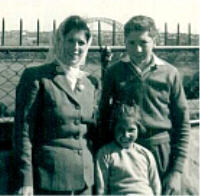 Mum, my sister Helenor and I in Sydney

Memories of life in the Square with my pal John Havelin, include us hoarding 'gold dust'. This was sandstone that we rubbed and rubbed till we got dust. We stored the 'gold' in National Dried Milk tins that were secreted in various hidey holes around the Square. I also remember making 'sugar alley watter' - a concoction of liquorice sticks, sugar and water in ginger bottles. These were shaken vigorously on a daily basis and kept in dark places until ready to drink. (I don't think I could stomach the stuff now).
On leaving the army, my father went back to work in the factory but, couldn't settle so in 1951 he joined the Royal Navy. For one thing the pay was better and he wanted to get us out of the Square. I didn't see much of him in those days as naval service then meant a lot of sea time. I do remember his homecomings though and the presents he brought from far off lands. I particularly remember a Bowie knife with an 8" blade. Just the thing for a 6 year old! This was confiscated by my mother and not returned until I joined the scouts when I was eleven. I was the envy of the troop (1st Stevenston, 11th Ayrshire).
My final memory of life in the Square was the Queens Coronation day. Oh what a wondrous day that was. The whole Square decorated with colourful flags and bunting. Trestle tables covered with white sheets and laden with paste sandwiches, baked cakes, biscuits and sweets all garnered with ration coupons that had been saved for that very day. And a special treat for each child – a Queens head sixpence and a banana! My very first taste of a fruit I love to this day. Oh what a wonderful way to herald in a new era after the austerity of the war and the rationed years that followed.
The 'Bottom-end' Years
So it was in 1953 that we moved to Ardoch Crescent. What a change! A room of my own and wonder of wonders a bathroom and indoor toilet. No more worries about the bogey man now. We lived in the bottom-end for 4 years and the biggest occasion of that time was the arrival of my wee sister Helenor in 1954. I was a stay at home boy after that because I loved this little doll. I bathed her, cuddled her, sang to her even changed her nappies on occasion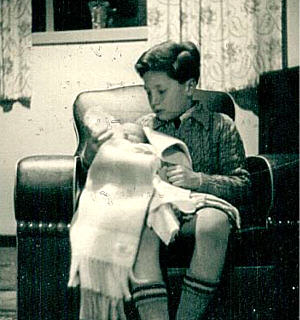 My wee sister and I

I'll say no more about that as she still stays in the town and maybe get a bit embarrassed. Play times then were mainly in the 'sanny hills' where me and my pals would play soldiers or cowboys and Indians (I was an indian). "Bang, bang your deid!" "No am no, you missed." That's when we started using pretend knives that way we could be sure not to miss. (Oh I wish I'd had my Bowie knife then. I would have won every game eh?). At night my mammy and I used to sit by the fire and listen to Radio Luxembourg on the wireless. (My dad was away at sea again). Mammy's favourite was the Ink Spots. Mine was Dan Dare and Dick Barton.
The 'Tap-end' Years
1957 saw us move to Hamilton Crescent. My best friend at that time was James McCrae (now living in Canada). We spent hours upon hours wandering up the country looking for birds' nests. Sorry to say that we used to collect eggs (only one from each nest mind you). We'd bring them home, prick each end with a pin and blow them. Our collections were stored carefully in shoeboxes full of cotton wool. In autumn we'd gather conkers from Kerelaw. What a great game and what a shame that some schools have banned it for 'health and safety' reasons. I can remember getting a few dunks on the knuckles but nothing more than that. I had my first pair of roller skates about this time and it was grand skating down that hill on Hyslop Road. Going back up was a bit of a bind. So, I let my wee sister join in the fun – "I'll skate doon the hill hen, and you pu' me back up. That'll be fun won't it?". Brotherly love!
In 1958 we set sail for Sydney, Australia to join my dad who was serving out there in HMAS Penguin. After 3 years abroad I returned to Hamilton Crescent. Two years at the higher grade where my pals were Richard Frew, Alex (Yogi) Blair and Robert Erskine. These were the awakening years when my pals and I first discovered rock and roll and girls …. maybe that's another story for another time.
Norman McLaren
Stevenston, Scotland