Ardeer Thistle F.C.


Season 1959-60.  Selected from a booklet by Peter Bird 
Season 1959-60 was one of the most successful years in the history of Ardeer Thistle and is remembered for many things but most notably for the goal scoring abilities of the centre forward Tommy Duffy who scored 97 goals and this is still recorded in the Guinness Book of Records. It was also special for Matt Thomson who was capped for Scotland.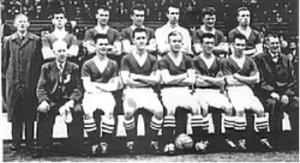 The magnificent efforts of the whole playing squad should also be recorded and it is recognised that they would have achieved greater glory had it not been for the fact that they had to play twelve games in eighteen days in May and nine games in eighteen days in June. As the team line shows there were many changes during this period due to injury, work commitments etc. and in the Irvine & District Cup Final Johnny Templeton and Jimmy Reilly took to the field unfit. During the game Brannan and Sweeney left the field injured reducing the team to nine men.
Mention should be made of the eleven players who never lost a game during the season. They were: Goalkeeper Bishop. Defenders: Sweeney, Thomson. Halfbacks: Hood, Andrew, Murray. Forwards: Templeton, Brannan, Duffy, McLeod, Reilly
It can be said that behind each great team there is a hard working backroom staff and this was indeed the case. From the committee (including the dedicated ladies committee) and training staff right through to the gate collectors and supporters. Each played their part in such a memorable season. Since then many have strived with that same dedication to emulate that great season and today Ardeer Thistle still have an enthusiastic playing staff and a group of dedicated personnel behind the scenes and the hope is that very soon they will have similar success to that of the team of 59-60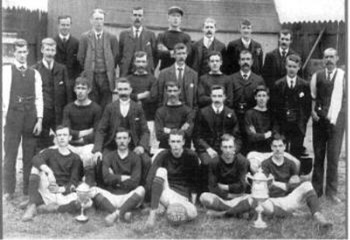 This photograph may seem out of place but it appeared in the local newspaper early in the 1959-60 season and perhaps it is relevant to the extent of inspiring the 59-60 team to their great achievements. The picture shows the the team and officials after they had won the Irvine & District Cup for the second time in 1907-8. The team was Stevenson: Leckie and Cook: McCulloch, Reid and Auld: McAusland, Speirs, Alerdice, Duff & Kelso. They then won the cup the following season with the following team: Docherty: Robb and Cook: McCulloch, Reid and Young: Marshall, Jackson, Allerdyce, Brown and Auld (Kilmarnock). By winning the trophy three times in succession they were given it for keeps and their record still stands unequalled. The 1959-60 team also created records that may prove unequalled.
Ayrshire Junior Cup Final 1960
Duffy again goes nap
Ardeer Thistle and Saltcoats Vics. met last Saturday in the final of the Ayrshire cup at Recreation Park, Stevenston. Thistle's last victory in this cup was in season 1925-26 and Saltcoats last win was in season 1946-47.
The game attracted a large crowd and Thistle were first to press but a hefty clearance by Bond gave Newton possession. He crossed but Andrew cleared – Bishop saved from Burns and Bond from Duffy. Saltcoats defence were badly exposed and this gave Duffy the chance to put Ardeer into a one goal lead Morrison started a move, but one pass too many allowed the Ardeer defence to clear their lines.
At the other end a Brannan cross was met by Duffy who put Thistle two up. Thistle were now playing with great confidence and Duffy added to his tally. Crum was trying all he knew to break down the Ardeer defence and eventually he reduced the leeway. Saltcoats were given some heart just before the interval when Burns scored. 
Half Time : Ardeer 3 Vics 2
The second half had barely started when that man Duffy scored Ardeer's fourth goal and shortly afterwards scored his, and Ardeer's fifth goal. Despite this Saltcoats was putting up a good fight and their supporters were not going to allow them to give in. Later Duffy unselfishly passed to McLeod to take the Ardeer total to six and then Vics managed to get a penalty which Bishop saved from Newton . Morrison scored for Vics but by this time the leeway was too great to overcome.
Final Result: Ardeer 6 Vics 3
A good hard game with victory going to the better balanced team although Saltcoats gave a good account of themselves. They failed to keep a watch on Duffy and this allowed him the scope to "go nap ".
Teams:
Ardeer Thistle: Bishop, Sweeney and Thomson. Hood, Andrew and Murray. Templeton, Brannan, Duffy, McLeod and J. Reilly.
Saltcoats Vics: Bond, McCallum and McLeish. Murney, McFee and Forrest. Morrison, Orr, Burns, Crum and Newton.
Referee: W Ferguson, Carluke Gate £192.12/-
Mr Sloan of Glenafton Athletic presented the cup to Brannan of Ardeer who was carried shoulder high round the stadium.
Western League Cup Final 1960
Ardeer Thistle Worthy Winners
Ardeer Thistle and Kello Rovers met last Saturday at Meadow Park, Irvine in the final of the League Cup. Ardeer brought in R. Reilly at full back for Sweeney. The weather was ideal and the attendance excellent.
Thistle settled down right away and Brannan opened the scoring in the sixteenth minute and following further pressure the same player added a second. Rovers were putting too much work on the ball and were falling easy prey to the strong tackling Ardeer defence. It was all too evident that Ardeer were on the road to victory as the Rovers defence was getting it hot as the Ardeer forwards were moving fast and causing them all sorts of bother.
Half Time: Ardeer 2 Kello 0
The second half had just got under way when Campbell scored for Kello and this spurred Ardeer on with Templeton and Brannan showing some classy movements. Duffy then added a third for Ardeer and J Reilly put them further ahead. Rovers were now in trouble and were finding it hard to down the fast moving Ardeer forwards. Hawkshaw, J. Frew and A. Frew were trying to make a game of it but it was Ardeer, through Duffy, who scored again. Yes, Rovers were down and out. All their efforts lacked sting and kelly on the right wing had little chance to shine as Thomson had him well covered throughout the match.  Final Result: Ardeer 5 Kello 1
Thistle were easy winners and took command from the kick off. Kello officials claimed that their team should have had at least two penalties.
Teams:
Ardeer Thistle : Bishop, R. Reilly and Thomas, Hood, Andrew and Murray, Templeton, Brannan, Duffy,McLeod and J. Reilly.
Kello Rovers: King, Crolla and Burgess, Ward, Paul and Connelly, Kelly, Hawshaw, Campbell, J. Frew and A. Frew.
Referee: A. Mathieson, Paisley. Mr A. Fullarton, President of the Western League, presented the trophy to the winners.