Ardrossan ~ Ayrshire Directory 1837 by Pigot & Co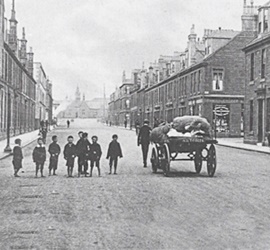 A bathing place advancing into celebrity, is in the parish of its name, pleasantly situate on the western shore of Ayrshire, on an accessible point of the coast, and only a mile west of Saltcoats, which occupies another promontory; it is 74 miles sw of Edinburgh, 30 miles sw of Glasgow, 25 miles ssw of Paisley, and 8 w by n of Irvine. This place, though but yet in a state of infancy, bids fair to rival some of the longer established watering places, and has already become a favourable resort, in the bathing season, for the genteel families of Ayrshire and other places - who can be accommodated with neat and commodious houses or lodgings. It is chiefly indebted for its existance to the noble family of Eglintoun, who had formerly a castle of great strength and extent in the vicinity, but which is now in ruins. A large and elegant hotel, with a suite of warm and cold baths, was erected by the late Lord Eglintoun, at an expense of £10 000. The public rooms, the bed rooms, offices and stabling are most commodious. This establishment is conducted by Mr Robert Young, in a manner highly creditable to himself, and satisfactory to its numerous visitors.
The harbour was commenced nearly thirty years ago, under the auspices of the before-named munificent patron, who expended nearly £90000, upon it, and became the sole proprietor both of it and the town, as well as the extensive barony of Ardrossan. The tide harbour will contain from fifty to sixty vessels. The dock occupies an extent of seven Scots acres, and will admit fifty vessels of from three to six hundred tons burden. It was originally intended to form a communication between this harbour and Glasgow, by means of a canal, the completion of which, owing to some legal points, has been for some time suspended. An act of Parliament was obtained, in 1827, for making a railway between Ardrossan and Johnstone, but as yet it has only been finished to Kilwinning, a distance of six miles; a branch of four miles has also been made to the Elgintoun coal fields. The principal traffic is in coal and stone, which are shipped here , chiefly to Ireland.
A considerable trade is also carried on in the conveyance of passengers along the railway; during the year ending September 31st, 1835, upwards of 21,000 persons were so conveyed, and there was a great increase in the ensuing year. It is anticipated that a railway communication will soon be established with Glasgow, Paisley and the immediate towns, by means of a junction with the Glasgow and Ayrshire railway, which, it is expected, will be shortly commenced. In the neighbourhood is a chalybeate (?) spring, whose medicinal properties are beneficial in cases of debility, scrofula (?) &c. The picturesque ruins of Ardrossan castle stand on an eminence, overlooking the town. An agricultural society has been formed here, and a coursing club established. Post Office, Elizabeth Reid, Post Mistress - Letters from Saltcoats, Irvine, Kilmarnock, &c arrive every morning at half past nine, and are despatched every afternoon at three.