ARDROSSAN - THE BUNKER PORT
Joan Biggar recalls the worldwide reputation once enjoyed by the Ayrshire town.
Reproduced with the kind permission of Joan Biggar and The Scots Magazine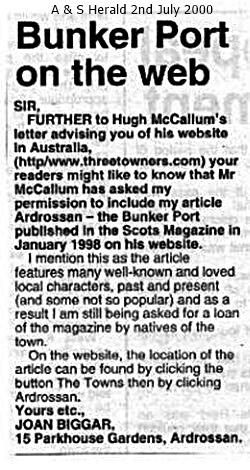 For many years, Ardrossan was advertised in theshipping publication Lloyd's List as "Ardrossan, the bunker port". But when the harbour was first built bunkering (taking on fuel) was still a thing of the future, as ships were all driven by sail.
The foundation stone was laid with much ceremony on 31st July 1806, and in the evening "Earl Hugh", 12th Earl of Eglinton, was host to 300 gentlemen at a dinner held in a marquee on Ardrossan's Castle Hill. There was a magnificent fireworks display (just as there was in 1945 on V.E. Day and V.J. Day), and cannon were fired constantly, answered by two government cutters cruising in the bay. Two joint-stock companies had been set up to finance the building of the harbour with the Earl as the principal shareholder in each, and of the £15,000 raised his contribution was £5,000. No mean amount at a time when a skilled tradesman earned little more than a pound a week.
The first foreign vessel sailed into Ardrossan in 1810, to be followed by many more, and in 1825 shipbuilding started alongside the harbour when Matthew Henderson began building small sailing ships of 100 tons and under. The coming of the railway gave trade a terrific boost, with a line opening for the Stevenston Coal Company in 1827, and by 1836 the Ardrossan Railway Company was transporting 36,000 passengers per year.
Steamers were also plying between Ardrossan, Glasgow and Ayr, and the Burns line (later to be amalgamated with another company to form BurnsLaird) had occasional sailing's from Ardrossan to Liverpool, while in 1859 a paddle steamer, the Adela made her first voyage to Belfast in a record-breaking crossing taking just a little over five hours.
The 1840s had brought further extensions and developments to the harbour and dockyard, and in 1842 the shipbuilding firm of Barr and Shearer started in business. Before long they were employing over 300 men.
By then the Ardrossan Steamboat Company had started a daily summer service, plus a weekly winter one to Arran, and in the 1890s, when trade was really booming, both the Glasgow and South Western Railway Company and the Caledonian Steam Packet Company ran services to the island in cut-throat competition. Their trains left Central and St Enoch Stations respectively at about the same time to race each other to Ardrossan, the drivers shaking their fists at one another as they hurtled along the two tracks on the dunes between Stevenston and Saltcoats. The record time from Glasgow to Brodick was 80 minutes - today it is 125 minutes! Speed reigned coming back, too, even though with their holidays over, the passengers were probably in no hurry.
The ferry captains brooked no delay, and on one occasion the Duchess Of Hamilton, racing the Scotia, departed from Brodick with screaming passengers left stranded on the gangway which still projected over the edge of the pier. Later these two ships collided while the Duchess Of Hamilton was recklessly attempting to pass the Scotia near the entrance to Ardrossan harbour. Altogether a trip to Arran was an adventure to be viewed with not a little apprehension, until 1908, when the rival companies called a truce.
During the 19th century steam power gradually took over and wooden ships gave way to iron and steel, but even as late as 1900 one third of the world's shipping was driven by sail. Trade fluctuated somewhat at Ardrossan and was adversely affected by the Crimean War, but the harbour could boast of handling 200,000 tons of coal per annum, thanks to the proximity of the Stevenston coal mines, and in 1863 was raised to the position of a port, while 1886 saw the formation of the Ardrossan Harbour Company. By then, Ardrossan was a favourite bunkering port for ships from a' the airts. By1900 in the dockyard ships were being built for companies in such far-flung places as Borneo and New South Wales.
The first world war brought orders for Admiralty vessels including mine-sweepers and a large stern wheeler, and HMS Pactolus was placed at the harbour to care for a squadron of submarines which, together with other ships, were repaired and refitted by Ardrossan Shipyard. To refuel the submarines, one of the piers was modified to become a small tanker berth, and fuel tanks together with the necessary pipelines and pumps were installed.
Later, in the mid-1920s, this prompted the Shell Oil Company to choose Ardrossan as a suitable base for a distribution depot when coal burning was being replaced by oil burning in ships.
In 1920 all the nine building berths in the company's two yards were occupied with vessels ranging from 300 to 6,600 tons, and the number of shipyard employees had soared to 2,300. This success was largely attributed to the energy and enthusiasm of Mr E. Aitken-Quack, managing director of the Ardrossan Dry Dock and Shipping Co., who was very unpopular with the workers due to his habit of strolling through the yards puffing on a big, fat cigar, for there was a strict employees' no-smoking rule. This had nothing to do with safety. The management simply figured that if a man was smoking he could not be working.
The no-smoking policy was just one of many restrictions. A man could only spend seven minutes a day in the antiquated toilets, and was only allowed to go once. This was not such a strain as might be supposed since, like smoking, the drinking of tea was taboo. Each man was given a round brass check which he put in at dinner and at night, and which had to be handed in at the office before he visited the conveniences.
One of the yard managers who has gone down in history was Ulsterman John Coleman, who used to vehemently declare that the three greatest men the world had ever known all had the initials J.C. - Jesus Christ, Julius Caesar, and John Coleman! Usually, when the men working on the ships saw anyone in a bowler hat they signaled to others who might cross his path, by a form of tic tac, to look out. But sometimes this early warning system failed, and on one occasion J.C. came on a heater boy for the riveters boiling up an illicit billy can for the squad. "Whose tea is that?" he demanded. "Lipton's, sir," the lad stammered in confusion and for once J.C. was speechless.
The tea embargo lasted throughout the entire lifetime of the dockyard, and bred a craving for the forbidden drink in everyone who worked there. Since fair means to get it, or forbid it, did not work, both sides resorted to foul, and when I interviewed retired shipwright James Black he had bitter memories of a manager of the 1960s known as Puggy Muir.
Puggy became aware that some men were brewing up tea, and stood chatting to them amicably until the billy can boiled dry, leaving a hole which made it a write-off! Then he strolled away with a satisfied smile on his face.
Amongst the ships closely associated with Ardrossan between the wars were those of local man Hugh Hogarth's Baron Line, and the fleet of arctic supply vessels built for the Hudson's Bay Company. Retired master mariner Archie Murchie, aged 83 and a native of Ardrossan, sailed on every kind of craft during a career which spanned more than half a century.
"I had left school at fourteen and was apprenticed to a sailmaker for two years," he told me, " but I was always determined to go to sea. My father and uncle were in the Arctic trade, and I sailed on the Baychimo (see "Phantom of the Arctic", The Scots Magazine December 1979) in 1929." Archie missed most of the excitement as, after making the fur run to lonely Arctic outposts, the boys amongst the crew were paid off and sent home at Vancouver before the Arctic winter set in.
"We were five days and nights on the train, travelling across Canada to join a homeward- bound liner, and I thought that a great adventure," said Archie. But it was nothing to that experienced by his cousin, Finlay Murchie, then a third engineer and one of the skeleton crew left to guard the ship when she became imprisoned in the pack ice near Seahorse Reef in Alaska. Finlay and his shipmates spent much of their time on the icefield, searching for driftwood to save the Baychimo's coal for when they got moving again, and transporting fresh water from an inland lake.
They also built an igloo-style hut, banked up with snow, and one day emerged from it to find the Baychimo had disappeared! She had been lifted by the pack ice, which had moved, and taken her towards the North Pole on an Arctic sea where the icebergs reached a height of 70 feet. It took three days and nights for Finlay and a young trapper who had been a passenger on the Baychimo to travel over the ice for 22 miles in a blinding blizzard and get help at an Eskimo village, but fortunately everyone lived to tell the astounding tale.
And what of the Baychomo? She was sighted many times from 1932 until 1969 roaming over 100 square miles of Arctic seas, and became known to the Eskimos as the "umiak", their word for great ship and also as "the phantom of the Arctic". A wonderful advertisement for Ardrossan shipbuilding, some people thought, as she seemed indestructible. But alas, unlike so many vessels of the Hudson's Bay line, including the Baychimo and Bayrupert, Baychimo was not built at Ardrossan.
"She was built in Germany," Archie informed me, "and her original name was the Amer Bonalfan. She was handed over to Britain in part payment of British ships lost in the First World War."
Regarding his time on the Hogarth-owned Baron Dechmont, he confirmed that the label "hungry Hogarth" by local men was no misnomer.
"I sailed on her during the 1930s and saw the cook treating meat which had gone off with permanganate of potash to make it edible," he told me. "And when that was finished we got the Board of Trade whack (ration) called salt horse which had to be boiled for four to five hours. That and cracker hash made with maggoty biscuits. We got two ounces of tea each per week, a tin of condensed milk had to last three weeks, and half a pound of sugar a week. But the Board of Trade regulations also ensured that we got an issue of lime juice to protect us from scurvy. We also had to provide our own bedding, including the chaff mattresses known as 'donkeys' breakfasts'."
Another shipping line, which had better remain nameless, had very religious owners who gave to charity but were exceedingly mean to their seamen, and of this line it is said that you got a sausage and a tract for breakfast!
Yet despite the harsh conditions, there was never any shortage of pierhead jumps! These were men who loitered on the piers in the hope that a ship would be short of a crew member at sailing time - for pierhead jumps took place in both directions!
"I told you not to trust that pierhead jump! When he was washed overboard he took that new bucket with him," it was once said of an unknown hapless amateur deck hand.
During the Second World War Ardrossan was taken over by the Admiralty and named HMS Fortitude. All passenger services from the port were suspended, but ferries sailed from Fairlie. Between the wars the number of employees at the shipyard had declined, but at that time about 700 men were kept busy and 25 new ships built, including minesweeping trawlers and boom defence vessels. There was also a vast amount of repair work; 49 submarines, 31 destroyers, 10 frigates and also 8 corvettes were repaired or refitted in addition to another 359 Admiralty vessels and 288 Merchant ships.
Ardrossan was a very important sea port in war time, and there was also a substantial army presence in the town, yet no air raids were inflicted upon it by the enemy. Even the nearby Nobel's explosives factory in Stevenston was only targeted once in a raid which did little damage. There was a major sea disaster however, involving an aircraft carrier, HMS Dasher, which sank in a few minutes in the sea between Ardrossan and Brodick on 27th March 1943. An explosion on board resulted in 379 lives lost from a crew of 528.
This incident was never reported in the media, but in 1995 became the subject of a book The Tragedy of HMS Dasher by Ardrossan author John Steele. It aroused much interest and there is now a memorial stone in Ardrossan's sunken garden, and a plaque at a local church, both tributes to the men who lost their lives in the sea of fire. But although the whole affair remained top secret, as HMS Dasher was not lost through enemy action, every year from 1944 Leading Wren Barbara Kay, who was serving at the Royal naval sick bay in Ardrossan where some of the casualties were taken, laid a red rose on the water in memory of them.
Of the many heroes of the occasion, one was John Templeton, a native of Islandmagee, who was the captain of a coaster, the SS Cragsman, built in Paisley in 1924. When other rescue ships, including Royal Navy vessels, stopped at the perimeter of the searing flame and dense smoke, he chugged on into the inferno and reappeared laden with survivors whom he transferred to a naval vessel, then slipped away quietly.
During the war Ardrossan was a Commando base, and local man James Boyle, then a lad working in the Shell office, remembers seeing yachts come in bearing the scarred Commando barges. "We never knew where they had been," he said. "The Commandos wore polo-necked sweaters instead of the usual army jackets, and officers and men were dressed alike."
It was James's duty to go to the tanker berths with documentation, and he often passed ladies who were Ardrossan's equivalent to Liverpool's famous Maggie May.
"They were usually very overweight," he recalls, "and favoured ocelot coats. Sometimes they had to be helped down rope ladders - it was quite a sight!" The overweight appearance might have been due to the spoils hidden under those "leopard" coats, such as cigarettes and foodstuffs from the ships to eke out rations. The dockyard workers subjected the Maggie Mays to a barrage of catcalls, but they took those in their stride.
After the war, the harbour and shipyards remained busy until the mid-1950s, and ship- wright Jim Black, who retired in 1969, was accustomed to working a 48-hour week. "The shipyard hooter sounded at 7.25 a.m.," he told me, "with a second blast five minutes later, when the gates closed. If you were late you were locked out until dinner time and lost four hours' pay. It was reckoned 400 bikes streamed out of the dockyard every midday and evening, but I just took a piece for my dinner, eating it in the blacksmith's shop."
Launches had always been very special occasions, and in the early 19th century were followed by a dance in the evening, at which the apprentices sported uniform dress of blue jacket, yellow vest, and white jean trousers. Later all that went by the board, but Jim remembers with affection the launch of a boat for the Guinness firm.
"The launch money we got was £17, so we headed for the nearest pub and plonked it on the counter." He laughed. "That was for the shipwrights, who were also given two bottles of Guinness each. All the wives and weans came to the launches; it was a nice day out."
But launches did not always go according to plan. For the launch of one Guinness boat a mixture of half champagne and half Guinness was requested - "black velvet". There was some concern that the bottle might not break, but in fact it exploded when it hit the ship.
Throughout the 1950s, pierhead jumpers were still trying their luck, but some youngsters sought to join the mercantile marine in a more orthodox way. My mother worked in the office of shipping agents R.L.Alpine and Co., who were the local vice-consulate for Norway and Denmark and the Netherlands consular agency. On one occasion a young boy came in and asked the office manager, Johnnie Craig, if he could join the Merchant Navy. Johnnie was busy and waved the lad aside, saying, "Och, you'll need to go to the Pool for that, son." He meant the seamen's employment bureau in Glasgow. But the boy (naturally enough) duly turned up at the only pool he was familiar with Saltcoats bathing pool!
Robert Alpine used to get very irritated by the efforts of his male members of staff to hoist the Norwegian, Danish and Netherlands flags above the office buildings when there was cause for celebration in any of those countries. The flag invariably slid down the flag pole, and R.L. would come in tut-tutting, "The flag's at half mast, John!"
Foreign seamen visiting Ardrossan for the first time were still amazed, as they had been in war time, at how small the town was. From the busy harbour and dockyard area they expected Ardrossan to be a city the size of Hull or Liverpool.
But from the mid-1950s the work force declined dramatically, as orders for the dockyard became few and far between. In 1964 the yard was put up for sale and taken over by Archie Kelly, a self-made man from Greenock, formerly a ship's engineer. Business improved for a time, but in October 1969 Kelly was glad to give up his interests in the shipyard to the Harbour Company. Another local man, Bill McCrindle, who had started work in the yard as an apprentice fitter in 1955, acquired some 13 acres of ground in the 1970s and began shipbuilding on a small scale, but despite all efforts the dockyard finally went out of business. The last ship was launched in 1987, and so ended Ardrossan's renowned ship building industry which had lasted for over 160 years and produced 450 ships.
The harbour seemed to be in good heart in the 1960s and there was still a line of ships to be seen lying "in the roads" as the approach to the port was called, on many a morning, waiting for berths. Amongst them was sure to be at least one tanker, and in 1968 four tanker berths at Ardrossan handled 950,000 tons of oil products. But due to a combination of circumstances the Shell depot closed in the 1980s.
Another misfortune was the ceasing of many ferry services. The troubles in Northern Island had an adverse effect on sailing's to Belfast, especially after there was a bomb hoax on the Lion, a 4,000 ton ship able to accommodate 1,200 passengers and 176 cars. Another alarming incident was a fire which gutted her engine room, and her last sailing was in 1976. Another Irish ferry of which many older Ardrossan folk have fond memories is the Laird's Isle, known locally as "Smokey Joe" for obvious reasons.
Local historian Leslie Callan told me the four-hour journeys to Belfast by "Smokey Joe" used to be very popular indeed, and allowed for two and a half hours ashore before the return trip. She was a sturdy ship which saw 46 years of service, not only as a ferry but during both World Wars.
The cessation of the Isle of Man ferries was still another nail in the coffin of Ardrossan harbour.
"An attempt was made to revive it last year, for events like the T.T. Races and Glasgow Fair but it was so poorly patronised it doesn't look like the experiment will be repeated," Leslie explained.
If more evidence was needed that the harbour was recently fallen on hard times, Jim McGregor provided it. He started as a boatman with port control when he was 13, and worked shifts right away. Apart from National Service, he remained at the harbour until 1990 and has a medal to commemorate 30 years in the Auxiliary Coastguard Service.
"One of my cherished boyhood memories is of the crew of a puffer who were a bit drunk and sailed away leaving all their fish suppers stacked up on a bollard." He chuckled. "I scoffed the lot!
"I've fallen off staging into the dock myself a few times," he went on, "but more often I've had to get people out. And towards the end of my time at the harbour I had to rescue a very heavily-built merchant navy officer. It was hard work hauling him out but the captain of the man's ship was generous. He gave me 50 pence for my trouble!" Well, I suppose the captain would know best himself the value of his officer's life...
The only ship now regularly using Ardrossan harbour is the roll-on, roll-off car ferry to Arran which has always been well patronised. But gone are the days when Britain had more ships in the cargo and passenger trade than the rest of the world put together, and more than two-thirds of the world's shipping was built on the Clyde!
Archie Murchie informs me that now even Denmark has a bigger merchant fleet. And, as regards Clyde shipbuilding, only the Norwegian-owned Govan yard remains.
At one time, Ardrossan was a busy little town with a row of high-class shops in Princes Street, a cosy little cinema and two dance halls, one of which had a very cosmopolitan atmosphere due to the number of foreign ships in port. Now the place looks somewhat forlorn and run down. But miracles still happen and the nod has been given by the local council to a multi-million pound development at the harbourside involving a yachting marina and some 200 up-market houses, bringing hope for the future.
So it seems you can't keep a good town down!
Transcribed and forwarded by Bill Wilson ~ Ontario, Canada